I currently don't have any mice in my mousery because they've all passed away. Until I get new ones, the pictures and bios of my last mice will remain here.
Spot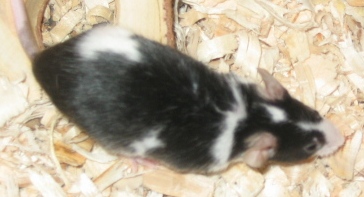 Spot has what I would like to call a variegated, black and white coat. I'm not sure if that's what you would actually call it in the mouse show world, but I think it'll do. He has a little, white nose that makes a blaze. Around his neck is a white ring of hair and he has a white patch on his hindquarters. He's a pretty nice guy toward everybody except other male mice, which we found out shortly after adopting him. He's a strong and healthy mouse though.
Mickey
You guessed it...Mickey is a black mouse. He is very, very friendly and docile. I went and adopted Mickey and Spot from the same store, different cages, and on the way home I could hear them scuffling in the transportation box. Spot gave him a pretty good whooping, but he's okay. He's already more or less back to normal; minus a couple spots of hair. Obviously we have to keep him and Spot in two different cages, but I think that Mickey would do well with other male mice. Anyways, he's probably one of my favorite mice because he's so calm and laid back.
Update: Mickey had a problem with his leg and might not be breeding in the future, but it really seems to be clearing up and I'm hoping for the best because he really is such a sweet little mouse and I hope I can pass on his genetics.
Update (again): Mickey is now perfectly fine. He has a little scar on his right side, but it's completely healed. There was a time there where I was really concerned for his health and specifically one terrifying night at about 10 when I came in and he seemed practically dead. Samantha and I gave him a little TLC and he came out better than new the next morning.